WHERE DOES WASTE WATER TREATMENT PLANT'S SEWAGE WATER GO?
For approximately two years EnviroWatch, Inc. has been investigating the City and County of Honolulu and the United States Department of Defense's Waste Water Treatment Plant operations near Wahiawa, and their disposal and reuse of treated sewage water in irrigation ditches that run through central Oahu and empty into the ocean on the north shore.
Our investigation revealed that the Hawaii State Department of Heath has tolerated substandard operation and maintenance practices at both Waste Water Treatment Plants for ten or more years. The records we recovered suggest that the DOH's authority has been reduced from a regulatory agency to that of a co-conspirator in numerous violations of the Clean Water Act and other State and Federal Laws by the City and County of Honolulu and the Department of Defense, United States Army.
Our investigation also found that the DOH's commitment to the protection and welfare of people of color or low income status is minimal. Although the DOH recently developed an Environmental Justice or Environmental Equity Policy it does not seem to be in effect.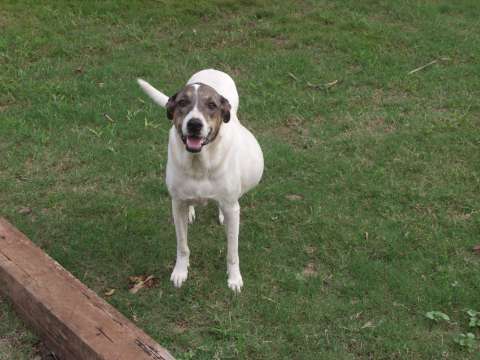 This is "Bradda". He is one of three dogs with soccer ball size tumors living near the bay where sewage water flows into the ocean. The dogs come in frequent contact with the polluted water.
The following documents relate to projects EnviroWatch, Inc. has investigated and is taking action on to encourage the DOH to do the right thing.
1. A letter and pictures to DOH dated 8/21/02 regarding people wading in the polluted irrigation ditches gathering clams. As a result of our letter DOH posted signs about "R2" water in the ditch.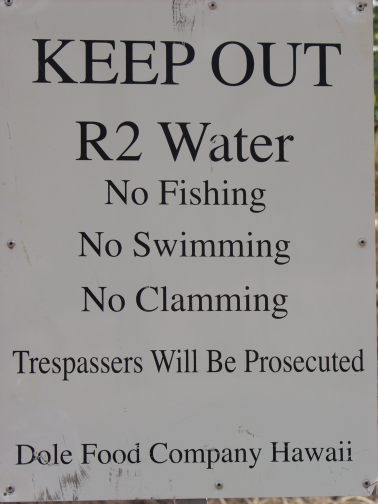 WHAT IS R2 WATER ???
We recommended informative signs be in multiple languages. Instead they posted this.
2. A letter to Joan Cola, EPA, dated 9/25/02. This is our written formal complaint of Clean Water Act violations.
A. Pictures 1-6 for EPA letter
B. Pictures 7-12 for EPA letter
C. Pictures 13-18 for EPA letter
D. Pictures 19 - 25 for EPA letter
Following is a trap used to catch fish in the sewage disposal/irrigation ditch. Fish and clams are eaten and sold.